16 Poems for Philip Guston

by Clark Coolidge
Written in 1974 in response to a solo exhibition of Guston's paintings at the Boston University Art Gallery, the poems in this book are a testament to Clark Coolidge and Philip Guston's friendship and artistic rapport. They also read as an annex of sorts to the prolific collaboration between Coolidge and Guston that resulted in a suite of 43 poem-picture drawings in the same period.
This co-publication by
Container Corps
and the OPR presents the poems alongside full-color reproductions of the paintings for the first time. Designed and printed by Gary Robbins for Container Corps, with an afterword by Rachael Guynn Wilson.
48 pages | 8 x 8 inches | Edition of 500 | 16 tipped-in color plates | Case bound
54 Books by Lola & Rachael.
December 2021.
Making this 'zine with
Lola Milholland
was arguably the best thing about 2021. We each chose 25 books on which to write 25 words or fewer. Some of our selections overlapped, so we chose a few more, and somehow wound up with 54. We printed 200 copies and gave them away.
Here's a sample:
Natalia Ginzburg,
A Place to Live,
trans. Schwartz, 2002
The women have lost their teeth; how sweet! The salamis swing in the soot! We eat little boys and girls—they laugh, "yes, we do!"
W.G. Sebald,
The Rings of Saturn
, trans. Hulse, 1995/1998
If Hamlet kept a travel journal. Is "ecstatic melancholy" a mood? For the longest time, I thought this was a sci-fi novel. (It is.)
Executive Orders is a project that originated with the Organism for Poetic Research. This collaborative long poem has been published in three distinct but overlapping iterations between 2017 and 2021. Now with over 100 contributors, it will conclude with a fourth and final volume, details TBD. Co-edited with Andrew Gorin.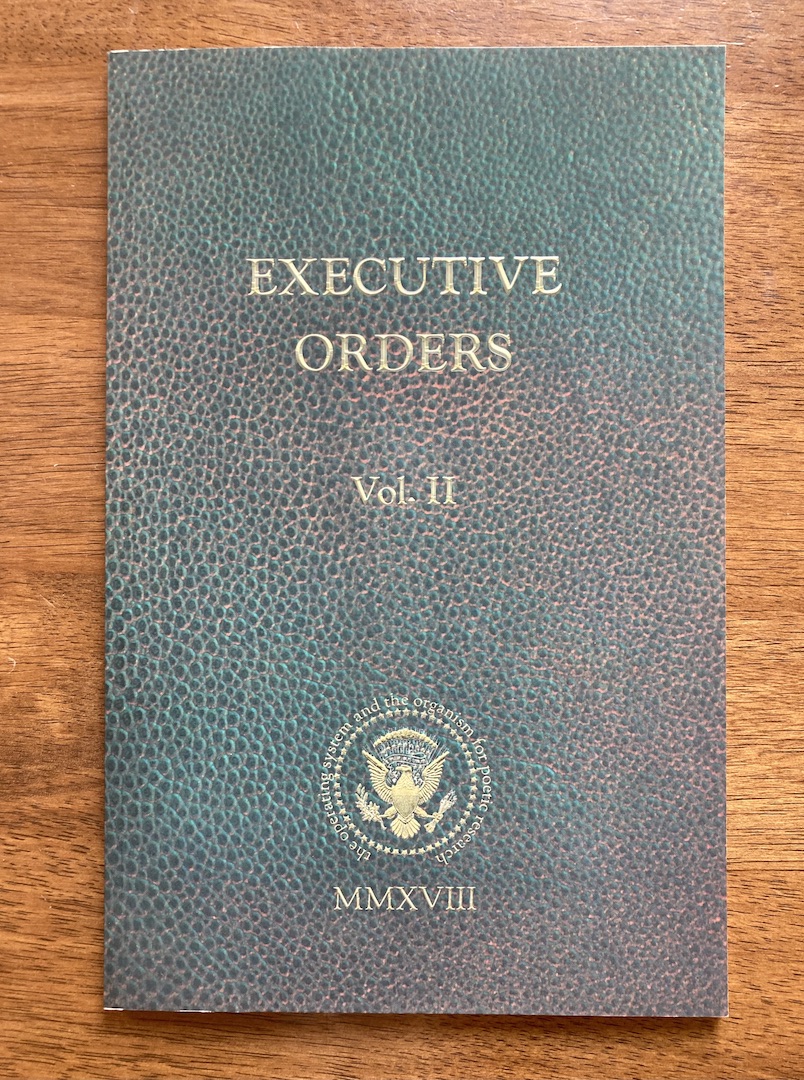 Executive Orders
, vol. ii, co-published by the OPR and the Operating System, 2018.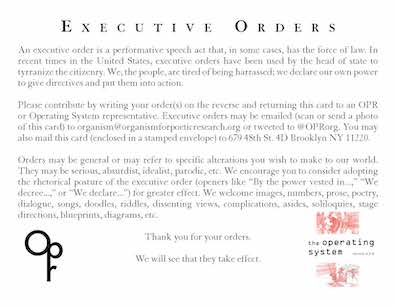 Postcards we used to gather "orders" at the Brooklyn Public Library & elsewhere